New Technology Is Adopted by the Popular Mobile Crusher Plant
Add Time: 7/18/2014 6:01:00 PM
The hydraulic-driving technology introduced form the developed countries has been adopted to the mobile crusher plant by our company as the newest mobile crushing and screening plant, which is fully driven by hydraulic force and moves by chassis tracked. It's designed by our company's excellent engineers to meet growing market demand.
This hydraulic-driven mobile crusher plant can be widely used for crushing and screening in many areas such as road construction, building, metallurgical and energy industries, etc. It can be applied in silica sand crushing plant, limestone mining process, iron ore crushing process, granite aggregate crushing line, copper ore crushing, coal processing plant, cement production line,ballast screening plant, aggregate crushing plant, etc.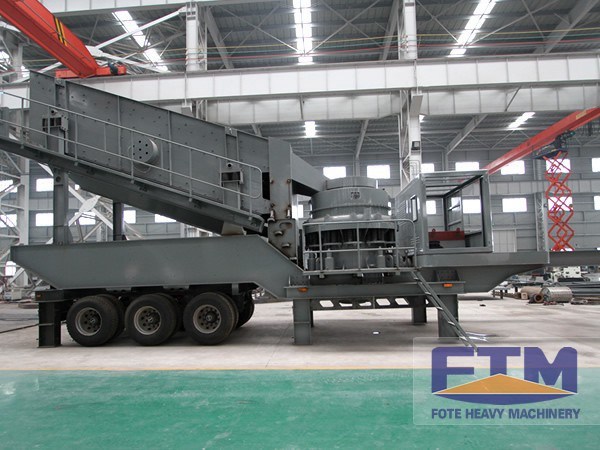 High performance engine makes the hydraulic-driven mobile crusher plant cost less oil, produce less noise and have a more reliable performance and provide an economical and environmental power. The engine can be additionally equipped with low temperature preheating start-up device to ensure the crusher machine easy to start under the condition of minus 25°C.
Employing fully rigid boat structure, the chassis features high strength, low contact pressure, good passing ability and good adaptability to hilly and marsh areas. The main hydraulic devices of this mobile crusher like pump, valves are imported.
This mobile crusher plant operating system with imported direct servo technique can be easily and precisely controlled and travel in an infinite variable speed. Crushing and screening equipments are of our company's advanced products, which have compact conformation and stable performance. We believe that our mobile crushers will bring customers a new experience with this new technology been adopted.