Features
Basic Information of Stone Crusher:
Rock crushers are also called stone crushers. Rock crusher is used to crush the soft, middle hard or very hard materials. Stone crusher is widely applied in various ore, cement, refractories, aluminum soil clinker, diamond sand, mechanism building sand, and various metallurgical slag.
Classification of Stone Crusher:
Rock crusher can be classified into jaw crusher, mobile crusher, impact crusher, compound crusher, hammer crusher, vertical shaft impact crusher, gyratory crusher, cone crusher, roll crusher and so on.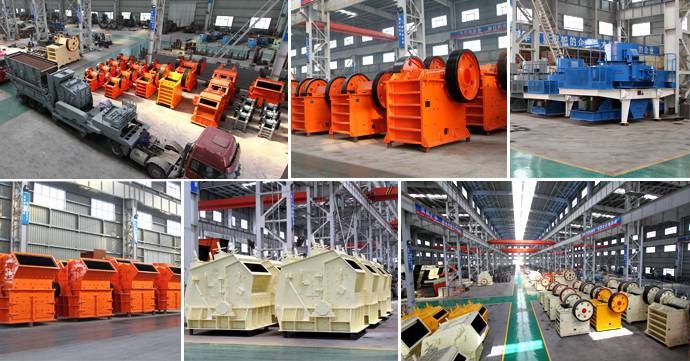 Maintenance of Stone Crusher:
1. The bearing takes all the load of the machine, so good lubrication has a great effect on the life expectancy of bearing and directly affects the life span and running rate of the crusher. So the lubricating oil injected should be clean and well sealed. The places should be lubricated are: (1) rotary bearing (2) roll bearing (3) all gears (4) moving bearing, and sliding plane.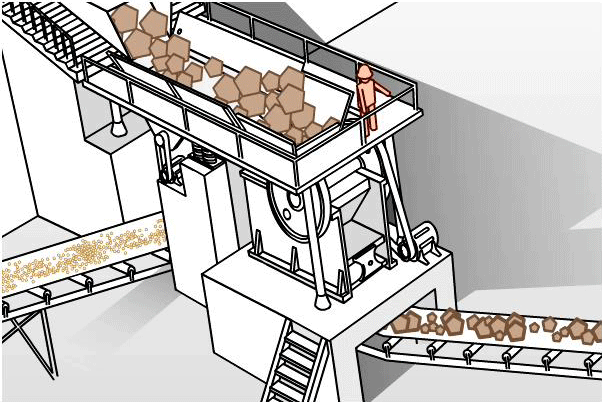 2. The new installed tires prone to loosening so it must be checked often.
3. Pay attention on whether every part of the machine works normally.
4. Check the degree of wearing of wear parts, and always pay attention to replace the worn parts.
5. If the temperature of bearing raised, immediately stop to find the causes and eliminate them.
6. If there is impact sound when the rotary bearing is in operation, immediately stop to check and eliminate the sound.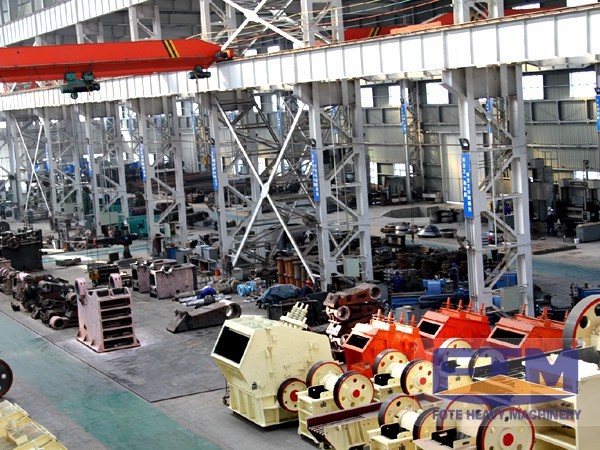 Stone crusher manufacturer
Fote Heavy Machinery is a manufacturer specializes in small, medium and large stone crusher, with a number of advanced production lines. The crushing equipment made by Fote can be used to crush various brittle materials like stone, ores, solid waste and so on. Fote is with great production strength and rich production experience, and Fote products are exported to all over the world. Here is the workshop picture of crushing machine: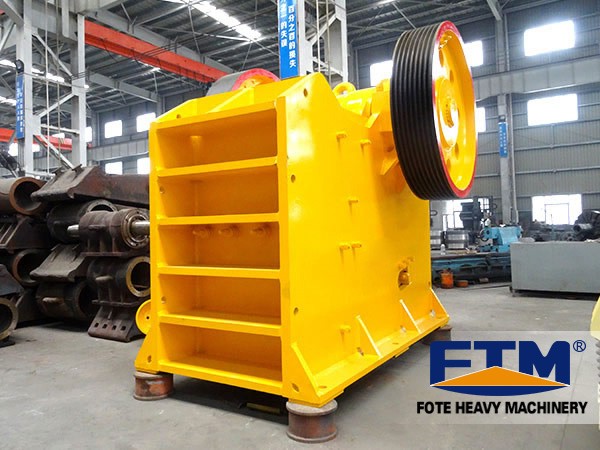 Unique Features of Stone Crusher:
1. High crushing efficiency with fine, coarse grinding function;
2. Simple structure, convenient installation and maintenance, low operation cost;
3. Be barely affected by the material moisture content, moisture content can up to 8%;
4. Excellent product grain shape;
5. Large product packing density, minimal iron pollution.
Technical data
Model

Feed opening
(mm)

Max.feeding size
(mm)

Adjusting range of discharge opening
(mm)

Processing capacity
(t/h)

Rotation speed of eccentric shaft
(r/min)

Motor power
(kw)

Total weight
(t)

Dimensions
(L×W×H)
(mm)

PE-150×250
150×250
125
10-40
1-3
250
4P 5.5
0.8
720×660×850
PE-200×300
200×300
180
15-50
2-6
260
4P 7.5
1.2
910×750×990
PE-200×350
200×350
180
18-70
3-10
260
4P 11
1.5
1000×870×990
PE-250×400
250×400
210
20-60
5-21
300
6P 15
2.8
1300×1090×1270
PE-400×600
400×600
340
40-100
16-64
275
6P 30
7
1730×1730×1630
PE-500×750
500×750
425
50-100
40-110
275
6P 55
12
1980×2080×1870
PE-600×750
600×750
500
150-200
80-240
275
6P 55
15.8
2070×2000×1920
PE-600×900
600×900
500
65-160
50-160
250
6P 55
17
2190×2206×2300
PE-750×1060
750×1060
630
80-140
110-320
250
8P 110
29
2660×2430×2800
PE-800×1060
800×1060
640
130-190
130-330
250
8P 110
29.8
2710×2430×2800
PE-830×1060
830×1060
650
160-220
150-336
250
8P 110
30.7
2740×2430×2800
PE-870×1060
870×1060
660
200-260
190-336
250
8P 110
31.5
2810×2430×2800
PE-900×1060
900×1060
685
230-290
230-390
250
8P 110
33
2870×2420×2940
PE-900×1200
900×1200
750
95-165
220-380
200
8P 110
52
3380×2870×3330
PE-1000×1200
1000×1200
850
195-265
315-500
200
8P 110
55
3480×2876×3330
PE-1200×1500
1200×1500
1020
150-350
400-800
180
6P 160-220
100.9
4200×3300×3500
PE-1500×1800
1500×1800
1200
220-350
500-1000
180
8P 280-355
139
5160×3660×4248
PEX-150×750
150×750
120
18-48
8-25
320
4P 15
3.8
1200×1530×1060
PEX-250×750
250×750
210
25-60
13-35
330
6P 22
5.5
1380×1750×1540
PEX-250×1000
250×1000
210
25-60
16-52
330
6P 30
7
1560×1950×1390
PEX-250×1200
250×1200
210
25-60
20-61
330
6P 37
9.7
2140×1660×1500
PEX-300×1300
300×1300
250
20-90
16-105
300
6P 55
15.6
2720×1950×1600