Features
Introduction of Mobile Crushing Plant
Mobile crushing plant is a new kind of crushing machine made by Fote Machinery. This equipment is composed of different crushing equipment and screening equipment. Mobile crushing plant can be used for stone crushing, ore crushing, construction waste crushing, concrete crushing, ore crushing, coal crushing and so on. It can also be applied in artificial sand production, road, water conservancy, bridge and other industries.
Composition of Mobile Crushing Plant:
Mobile crushing plant is composed by many equipment like feeding equipment, crushing equipment, screening equipment, conveying equipment and so on. Each of the above equipment has many types. For instance, for crushing equipment, there are jaw crusher, cone crusher, sand making machine, impact crusher and so on to satisfy the actual situation of the customers.
The Applicable Materials of Mobile Crushing plant
| | | |
| --- | --- | --- |
| Stone, ore | Construction waste | concrete |
| brick | glass | coal |
Classification of Mobile Crushing Plant
Tyre Mobile Crushing Plant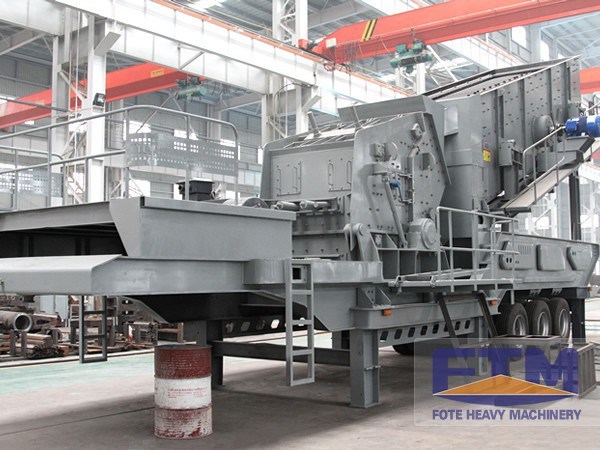 The tyre mobile crushing plant adopts the tyre mobile platform. It has simple structure and easy to maintain. The tyre mobile crushing plant itself has no motor, and it is driven by the locomotive so that it is easier to enter in the working site. The tyre can conduct the coarse, medium, and fine crushing of the materials at site. In addition, tyre crushing plant reduces the transportation cost.
Crawler Mobile Crushing Plant
Crawler mobile crushing plant is different from the tyre mobile crushing plant. This equipment adopts crawler as its mobile platform and has motor itself so it can move powered by itself. With no pull of the external force, it can move smoothly and is safer. Crawler mobile crushing plant can adapt to complex terrain better and can be set at any position. This kind of equipment is new type crushing plant with high technology and higher automatic degree.
Advantages of Mobile Crushing Plant
Mobile crushing plant uses the tyre or crawler as its mobile platform that improves the flexibility of the whole crushing plant. It is getting easier to lay the equipment under bad circumstance or at narrow place. What's more, it is faster to complete the construction of the mobile platform to make it earlier to production. Mobile crushing plant can drive into the crushing site which can reduce the transportation of the material to save the costs.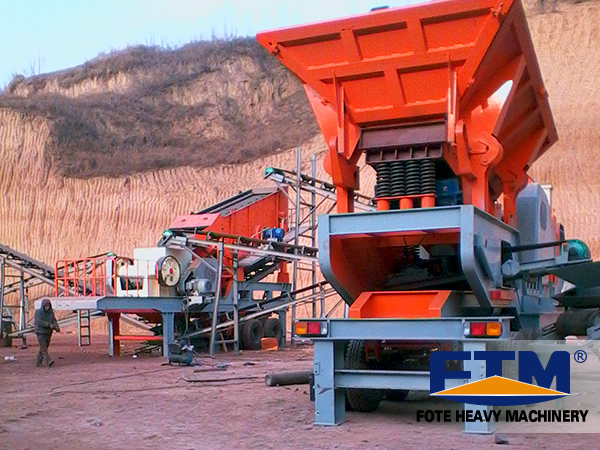 Mobile Crushing plant Manufacturer
Fote Machinery is a large mobile crushing plant manufacturer and we have years of research and production experience of crushing plant. The products sold to many countries and regions all over the world. Fote Machiery can customize the mobile crushing plant according to your needs. You can leave a message or send us an e-mail to get contact with us. Welcome the worldwide friends to pay a visit.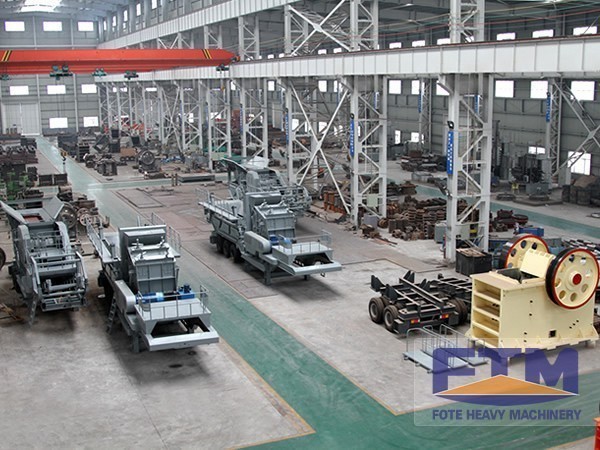 Production Workshop of Mobile Crushing Plant
Technical data
MOBLIE IMPACT CRUSHER TECHICAL PARAMETERS
| | | | | | |
| --- | --- | --- | --- | --- | --- |
| Model | FTM938F1210 | FTM938FW1214 | FTM1149F1315 | FTM1349HD1110 | FTM1349HD1315 |
| Transportation Length(mm) | 12000 | 12000 | 13900 | 15450 | 15450 |
| Transportation Width(mm) | 2550 | 2550 | 2900 | 2950 | 2950 |
| Transportation Height(mm) | 3900 | 3900 | 4450 | 4500 | 4500 |
| Maximum Length(mm) | 12500 | 12500 | 13900 | 15450 | 15450 |
| Maximum Width(mm) | 3250 | 3260 | 3250 | 3250 | 3250 |
| Maximum Height(mm) | 5100 | 5200 | 5200 | 5200 | 5200 |
| Weight(t) | 39 | 44 | 54 | 62 | 62 |
| Crusher Model | PF-1210 | PF-1214 | PF-1315 | HD1110 | HD1315 |
| The Maximum Feeding Size(mm) | 350 | 350 | 500 | 400 | 700 |
| Production Capacity(t/h) | 70-130 | 100-180 | 130-250 | 112 | 280 |
| Vibrating Feeder | ZSW950×3800 | ZSW950×3800 | ZSW110×4900 | ZSW130×4900 | ZSW130×4900 |
| Main Belt Conveyor | B800×8.5M | B800×8.5M | B1000×9.5M | B800×11M | B1200×11M |
| Side-opening Belt conveyor(Optional) | B500×3.2M | B500×3.2M | B650×4M | B650×4M | B650×4M |
| Genset(Optional) (kw) | 320 | 320 | 400 | 320 | 440 |
| Iron Separator (Optional)(kw) | RCYD(C)-8 | RCYD(C)-8 | RCYD(C)-10 | RCYD(C)-8 | RCYD(C)-12 |
MOBLIE JAW CRUSHER TECHNICAL PARAMETERS
| | | | | |
| --- | --- | --- | --- | --- |
| Model | FTM938HD80 | FTM1149HD98 | FTM1349HD110 | FTM1349HD125 |
| Transportation Length(mm) | 12600 | 13500 | 14500 | 15200 |
| Transportation Width(mm) | 2600 | 2700 | 2800 | 2900 |
| Transportation Height(mm) | 3870 | 4200 | 4450 | 4500 |
| Maximum Length(mm) | 12500 | 14000 | 16100 | 16700 |
| Maximum Width(mm) | 4100 | 4500 | 5100 | 5100 |
| Maximum Height(mm) | 4100 | 4900 | 5000 | 5300 |
| Weight(t) | 39 | 57 | 55 | 65 |
| Tire Configuration | Dual-axial | Dual-axial | Dual-axial | Dual-axial |
| Jaw Crusher | HD80 | HD98 | HD110 | HD125 |
| Maximum Feeding Size(mm) | 500 | 550 | 660 | 800 |
| Discharge Opening Size(mm) | 50-150 | 75-175 | 100-200 | 125-225 |
| Capacity(t/h) | 85-275 | 110-350 | 215-510 | 280-650 |
| Vibrating Model | ZSW380×95 | ZSW420×110 | ZSW490×130 | ZSW490×130 |
| Main Belt Conveyor | B800×8.5M | B1000×9.5M | B1000×11M | B1200×11M |
| Side-opening Belt conveyor(Optional) | B500×3M | B650×3.5M | B650×4M | B650×4M |
| Genset(Optional) (kw) | 200 | 250 | 270 | 400 |
| Iron Separator (Optional) | RCYD(C)-8 | RCYD(C)-10 | RCYD(C)-10 | RCYD(C)-12 |