Features
Metal powder dryer is a kind of drying equipment for metal powders, micro powder and other powder materials. This machine can effectively reduce the moisture in the powder material so it is a kind of commonly used drying equipment for ore processing plant and chemical plant.
Metal powder dryer is a member of monocular dryer with simple structure. Fote has specially improved the powder material to make the equipment more automatic and applied more broadly.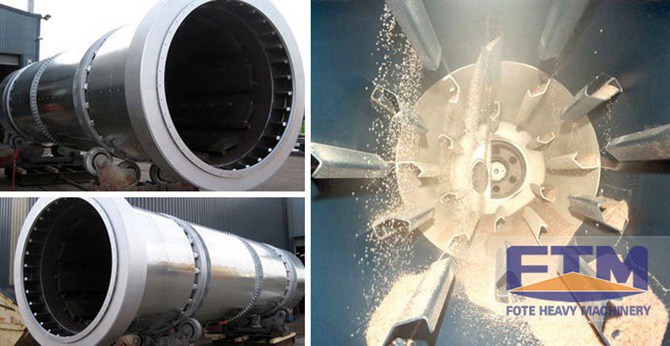 Metal powder dryer is also called micro powder dryer. It can be used to dry the following materials: metal powder, micro powder, copper powder, iron powder, manganese powder, gold powder and charring microsilica. Especially used for drying wet ore powder in beneficiation operation.
Technical data
Item/Unit/Model
Φ2.5×7m
Φ2.7×7m
Φ3.0×7.0m
Φ3.2×7.0m
Φ3.6×8m
Diameter of outer cylinder(m)
2.5
2.7
3.0
3.2
3.6
Length of outer cylinder(m)
7
7
7.0
7.0
8
Cylinder volume( m³ )
16.63
16.63
52.678
52.678
81.38
Rotating speed of cylinder(rpm)
4-10
4-10
4 -10
4 -10
4 -10
Initial moisture of slag(%)
10-12
10-12
10-12
10-12
10-12
Final moisture of slag(%)
1
1
1
1
1
Initial moisture of yellow ground(%)
8-10
8-10
8-10
8-10
8-10
Final moisture of yellow ground (%)
0.5-1
0.5-1
0.5-1
0.5-1
0.5-1
Highest intake air temperature(℃)
700-750℃
700-750℃
700-750℃
700-750℃
700-750℃
Production capacity(T/h)
Yellow sand25-30
Slag20-25
Yellow sand30-35
Slag25-30
Yellow sand35-40
Slag30-35
Yellow sand45-50
Slag35-40
Yellow sand65-70
Slag60-65
Motor type
Y2-132m-4E
Y2-132m-4E
Y2-160m-4
Y2-160m-4
Y2-160m-4
Motor power(kw)
7.5×2
11×2
7.5×4
7.5×4
15×4
Reducer type
XWD7-23-11W
XWD7-23-11W
XWD6-23-7.5KW
XWD6-23-7.5KW
XWD8-23-15KW
Velocity ratio of reducer
29
29
29
29
29