Features
Brief Introduction to Coal Mill
Air-swept coal mill is the most commonly used coal mill, and it is professional coal powder making machine mainly used in cement plants, thermal power plant, and other industrial production. Main principle of coal mill is breaking in drum by steel ball, so it's also known as steel ball coal mill, rotary coal mill, low speed coal mill and drum coal mill.

Structure and Working Principle of Coal Mill
Air-swept coal mill is mainly composed of feeding part, main bearings, rotating parts, transmission part, high-voltage start devices and lubrication system. Raw materials are fed into the rotary coal mill by feeder, and hot air will enter into the steel ball coal mill from the inlet pipe, so coal will be crushed and grinded in the mill, and make heat exchange with hot air when the coal tube rotating. Fine coal will be brought out of the coal mill along with hot air inside the mill.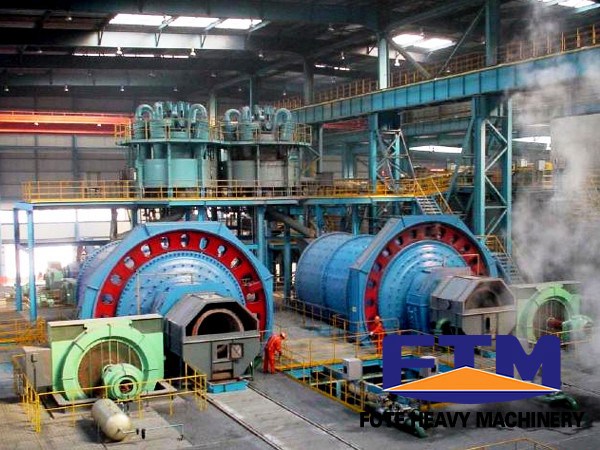 Coal Mill Manufacturer/Supplier
Air-swept coal mill developed and produced by our company is with reasonable structure and high grinding efficiency, so it is the ideal device for coal powder making. Steel ball coal grinding machine or low speed coal mill is suitable for a wide range, such as lignite, anthracite, bituminous coal, etc.
Fote air-swept coal mill machine adopts advantages of opened flow powder mill system, which is improved from traditional coal mill. In addition to the advantages of opened flow powder mill and improved design, productivity of Fote coal mill has substantially improved. Fote air-swept coal mill enjoys high yield and can produce ultrafine powder, so it's new grinding machine for production of high quality cement.
Technical data
Spec. (m)Item
Φ1.7×2.5
Φ2.2×4.4
Φ2.4×4.75
Φ2.4×4.5+2
Φ2.6×5.25+2.25
Φ2.8×5+3
Φ3.0×6.5+2.5
Φ3.2×6.75+2
Φ3.4×6+3
Φ3.8×7+2.5
Speed(r/min)
24.5
22.4
20.4
20.4
19.7
18.3
18.3
16.9
17.5
16.4
Capacity(t/h)
3-5
8-9
12-14
11-12
13-14
16-17
19-20
25-30
28-30
38-40
Feeding Size(mm)
<25
<25
<25
<25
<25
<25
<25
<25
<25
<25
Grinding Media Loading(t)
7.5
20
22
22.5
28
32
43
50
55
80
Main Reducer
ZD40
ZD60
ZD60
ZD60
ZD70
MBY450
ZD70
MBY500
ZD80
MBY560
JDX560
JDX710
MBY800
Main Motor(kw)
95
250
280
315
400
500
630
710
800
1250
Weight(t)
29
46
54
76
98
107
124
148
162
215