Features
Introduction to Flotation Plant
Flotation separation process is mainly used for nonferrous mineral processing. There are mainly copper separation production line, zinc separation production line, plumbum separation production line, nickel separation production line, gold separation production line, silver separation production line, sulfur flotation production line and phosphorus separation production line for building materials of fluorite, barite, rutile, bauxite.
Diagram of Flotation Separation Process
【Manufacturing Technique】: Flotation Technology
【Production Capacity】:5-1500t
【Applied Materials】:Nonferrous metals like Copper, Gold. Silver, Zinc, Nickel, Antimony, Lead and so on and Kaolin, Phosphorus, Sulfur ore
【Production Process】:(stock bin)---feeder---jaw crusher---jaw fine crusher---electrical vibrating feeder---ball mill---spiral separator---flotation machine(fine powder can be produced).The machines can be connected by belt conveyor.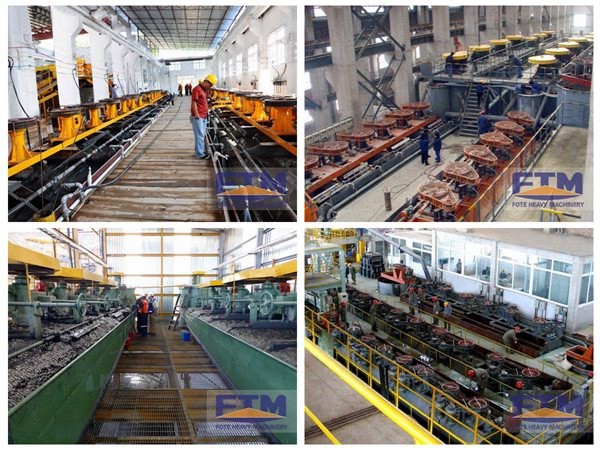 Working Process of Flotation Separation Production Line
After the crushing and grinding of materials, the materials are separated by the classifier. Then mineral powder is put into the blender for pharmaceutical combination reaction. And the reactants are put into the SF new flotation machines (roughing-the sweeping election- auslese). The fine powder which is concentrated by foam goes into the settling tank, and after passing through the filter being dried (moisture content in 7-9%), it can be packaged for delivery. (Slag discharged into tailings ponds, water recycling).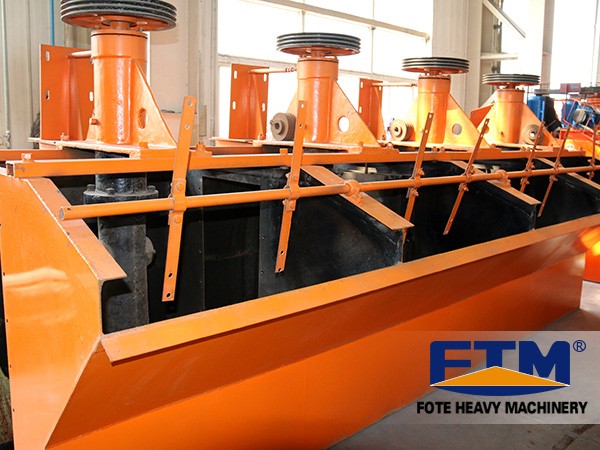 Advantages of Fote Flotation Separation Production Line
Fote Machinery is a famous flotation plant supplier. Fote flotation technology has high cost-effective and powder quality and yields are guaranteed. In addition, it has lower production costs and less pollution. The products are the most popular one in China flotation plant. According to the customer needs, we can design the most suitable and efficient mineral processing equipment.