Features
Iron-ore is one of the most mineral existing in nature, and natural iron ore can be divided into different categories such as hematite, magnetite, limonite, and so on.Iron ore is one of the most important raw materials in the production of modern industry. The iron ore can be used in industry only after being purified, so iron ore beneficiation process is an important means of processing.
Iron Ore Beneficiation Plant
Natural iron ore like magnetic iron ore or hematite iron ore can make ore beneficiation after series of measures. The following is the process of ore separation:
| | | |
| --- | --- | --- |
| | | |
1.Natural iron ore after coarse broken, then it will be further broken by Crusher.(Or use one-stage ball mill and two-stage ball mill to make ore grinding).
2. Sieve the crushed ore into 0-12mm granules, and use wet magnetic separator do magnetic separation.
3. Use the concentrator to purify and concentrate the wet iron concentrate powder.
4. Use wet concentrate dryer for drying, and then make packaging.

Hematite Ore Dressing Process
Hematite iron ore belongs to weakly magnetic minerals so high-strength magnetic separators may be used for magnetic separation.Or make magnetic separation after being high humidity roasted in rotary kiln. Also in iron production line, it is allowed to re-elect, magnetic separators, flotation separation process.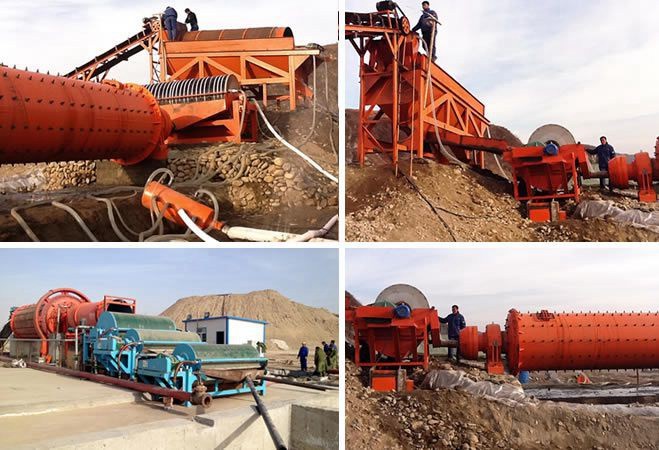 Strong Magnetic Iron Ore Beneficiation Process
This technology is mainly used for low grade magnetite ore beneficiation. Because the ore has high magnetic intensity and easy to be beneficiated, for magnetite with coarse-graineddistribution, stage grinding is usually used, otherwise multi-stage grinding process will be chosen.
Fote Machinery has many years of experience of making ore beneficiation production line. Welcome to contact with us to get more information about the iron ore beneficiation production line.