Features
Basic Information to Flotation Machine:
The flotation machine is driven by V-belt drive motor rotating impeller to create negative pressure by centrifugal vacuum. The flotation cell is a very important part of the flotation machine.The flotation cell, on the one hand, absorbs enough air mixed with plenty of pulp.
On the other hand, stirring the pulp mixed with drugs, the flotation machine refines foam to adhere to the mineral and float to the surface and then form the slurry bubble mineralization. You can adjust the height of the flashboard to control surface so that the useful foam could be scraped.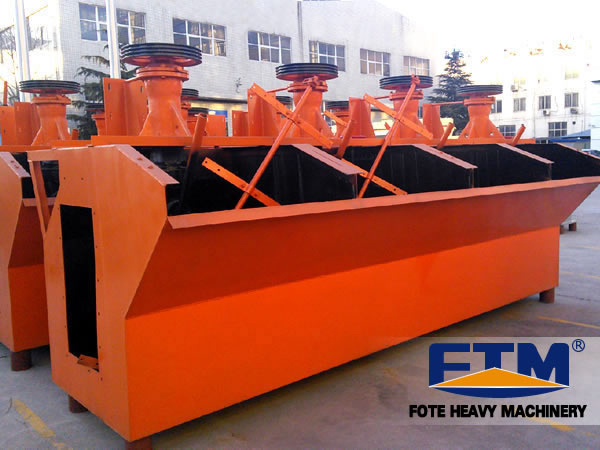 Fote is a copper ore flotation machine manufacturer with high reputation in China. The flotation separator price is quite reasonable and the quality is guaranteed.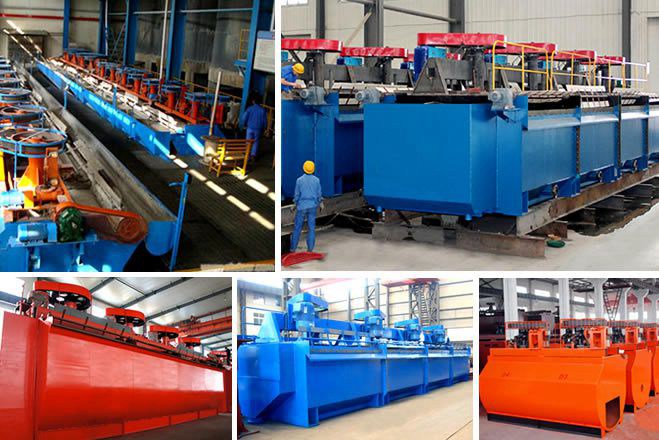 Applied Materials of Flotation Cell:
Flotation cell or flotation machine is mainly used for sorting copper, zinc, lead, nickel, gold and other metals, and it can also be used for ferrous metals and non-metallic materials.
Technical data
Category
Specification
Model
Effective
cubage
(m³)
Processing
capacity
(m³/min)
Main shaft loam board
Dimensions
(L×W×H)
(m)
Single
trough
Weight
(t)
Power
(kw)
Rotate
speed
(r/min)
Rotate
speed
(r/min)
Power
(kw)
XJK type
flotation
machine
XJK-0.35
0.35
0.18-0.4
1.5
483
25
1.1
0.7×0.7×0.7
0.5
XJK-0.62
0.62
0.3-0.9
3.0
400
25
1.1
0.90×0.82×0.85
1.0
XJK-1.1
1.1
0.6-1.6
5.5
330
25
1.1
1.1×1.1×1
1.4
XJK-2.8
2.8
1.5-3.5
11
280
25
1.1
1.75×1.6×1.1
2.5
XJK-5.8
5.8
5-7
22
240
25
1.5
2.2×2.2×1.2
3.6
SF type
flotation
machine
SF-0.37
0.37
0.2-0.4
1.5
386
25
1.1
0.7×0.7×0.75
0.5
SF-0.7
0.7
0.3-0.9
3
400
25
1.1
0.9×0.82×0.95
1.0
SF-1.2
1.2
0.6-1.6
5.5
330
25
1.1
1.1×1.1×1.1
1.9
SF-2.8
2.8
1.5-3.5
11
268
25
1.1
1.75×1.6×1.15
2.6
SF-4
4
2-4
15
220
25
1.5
1.85×2.05×1.2
2.9
SF-8
8
4-8
30
191
25
1.5
2.2×2.9×1.4
4.2
SF-10
10
5-10
30
191
25
1.5
2.2×2.9×1.7
4.5
SF-20
20
5-20
30×2
191
25
1.5
2.85×3.8×2
9.9
JJF type
flotation
machine
JJF-2
2
1-3
7.5
443
25
1.5
1.4×1.4×1.1
1.7
JJF-4
4
2-4
11
305
25
1.5
1.6×2.15×1.25
2.4
JJF-8
8
4-8
22
233
25
1.5
2.2×2.9×1.4
4.5
JJF-10
10
5-10
22
233
25
1.5
2.2×2.9×1.7
4.9
JJF-16
16
5-16
30
180
25
1.5
2.85×3.8×1.7
8.0
JJF-20
20
5-20
37
180
25
1.5
2.9×3.8×2.0
10.5