Features
Basic Information about Shaking Table:
Dressing table is also called gravity shaking table. The shaking table can make mineral particles move according to their density and particle size varies along different directions, and from the beginning of the mine shafts fanning out along the diagonal, followed by discharge along the edge of the bed, and the discharge line is very long.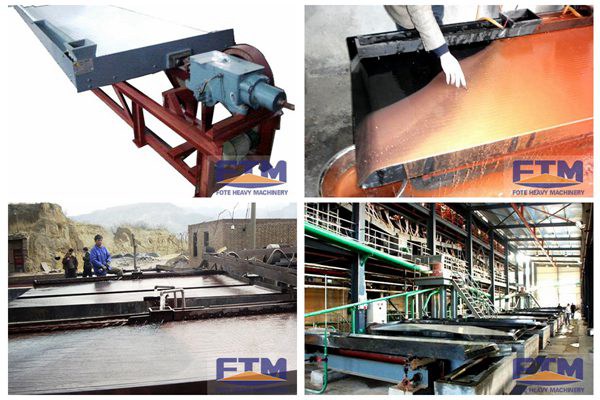 The shaking table is able to estate a variety of different quality products such as concentrates, secondary concentrates, the concentrates and tailings.
Fote is a famous concentrating table supplier in China. The small gold shaking table price is quite reasonable and the quality is quite high.
Construction of Shaking Table:
Shaking table usually consists of three major beds, chassis and transmission mechanism. In addition, there are red sink, mine shafts, base, etc.. The entire bed supported by a rack or lift, slope adjustment device fitted on the rack.
Technical data
Name
Grit
concentrator
table
Fine sand
concentrator
table
Sludge
concentrator
table
Bed surface
Dimensions
Length
(mm)
4450
4450
4450
Driving
part Width
(mm)
1855
1855
1855
Concentrate
part Width
(mm)
1546
1546
1546
Max.feeding
size(mm)
2
0.5
0.15
Feeding
amount
(t/d)
30-60
10-20
15-25
Feeding
thickness
(%)
25-30
20-25
15-25
Stroke
(mm)
16-22
11-16
8-16
Frequency
(f)
45-48
48-53
50-57
Bed surface
Water quantity
(t/d)
80-150
30-60
10-17
Bed surface
Horizontal
obliquity(°)
2.5-4.5
1.5-3.5
1-2
Bed surface
Portrait
obliquity(%)
1.4
0.92
----
Table board
corner(°)
32-42
40
42
Concentrating
area(㎡)
7.6
7.6
7.6
Bed surface
Length ratio
2.6
2.6
2.6
Shape of
side-bed
surface
Rectangle
Zigzag
Triangle
Motor
power(kw)
1.1
1.1
1.1
Transmission
device
Eccentricity Linkage