Features
Brief Introduction:
The crushing tooth of teeth roll crusher is in spiral arrangement. As a final check of granularity equipment, teeth roll crusher product uniform particle. Applicable to coal, coal, gangue, coke, gypsum, bauxite ore, sinter, solid waste and other hard-strong following materials broken; crushed under a variety of conditions apply to mine underground mining, factories, open-air environment, etc.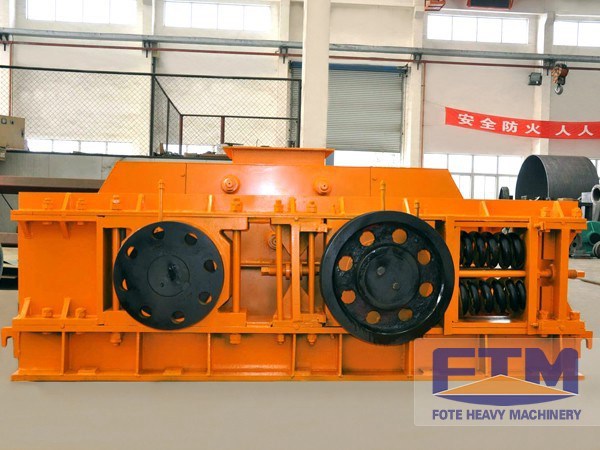 Toothed roll crusher is especially suitable for crushing bituminous coal, anthracite coal, coke, slag, refractory materials, etc., with no requirements on moisture of broken material. Advantages: low noise, simple structure, easy to maintenance, etc. What' more, it can be widely used in coal, electricity, building materials, chemical industry, metallurgy, non-metallic minerals, environmental protection and other industries.
Toothed roll crusher has sharp tooth on crushing rollers, like figure below: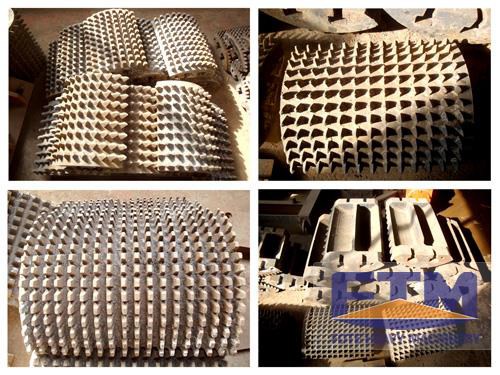 Features:
1. Low energy consumption;
2. Pairs of toothed rollers are driven by a single motor, simple structure, stable operation, little vibration, low noise and less dust;
3. Broken teeth roll is made of high strength wear-resistant alloy, durable, easy to replace;
4. High adaptability.
Fote is a toothed-roll crusher supplier and double toothed roll crusher manufacturer with high reputation. The products all have high quality and perfect. Leave us a message for more product details and price list?
Technical data
Model
Roller
diameter
(mm)
Roller
length
(mm)
Max.
Feeding
Size
(mm)
Discharging
size(mm)
Output
(t/h)
Motor
power
(kw)
Total
weight(t)
Overall
dimension
(L×W×H)
(mm)
2PGC600×500
600
500
200-450
15-100
30-60
4P 11×2
3.8
2450×1800×950
2PGC600×800
600
750
300-600
20-120
60-100
4P 18.5×2
7.2
4500×1900×1350
2PGC800×1000
800
1000
500-800
30-150
100-160
4P 22×2
12.6
2550×2050×1100
2PGC1000×1000
1000
1000
700-950
30-200
150-200
6P 45×2
18.8
2780×4100×1550
2PGC1200×1200
1200
1200
800-1050
30-200
180-250
6P 55×2
29.5
2780×3200×1980
2PGC1500×1200
1500
1200
1000-1150
30-200
200-300
6P 75×2
38.6
8010×4500×2050