Features
General Introduction of Cassava Dryer
Cassava dryer or cassava dregs dryer is widely used in the drying of materials with high humidity like cassava, cassava and so on and its heating efficiency amounts to 85%. Cassava dryer is a machine with full automatic control, continuous operations, and high thermal efficiency.
Cassava dryer consists of heating source, feeding machine, rotary drum, material discharge machine, induced draft fan, unloader and power distribution cabinet. After entering into the dryer, cassava is turned over uniformly and evenly dispersed in the dryer and make full access to the hot air that accelerates drying heat, and mass transfer.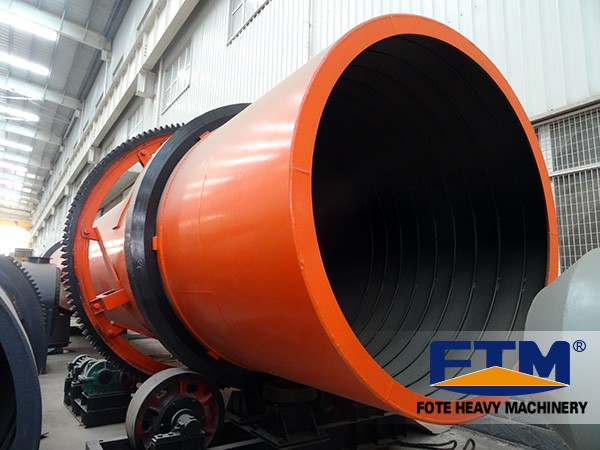 Fote is a famous cassava drying machine manufacturer and cassava dryer supplier. The products are all with high quality and reasonable price. Please get contact with us to know more detailed information about the machine. We'll always at your service.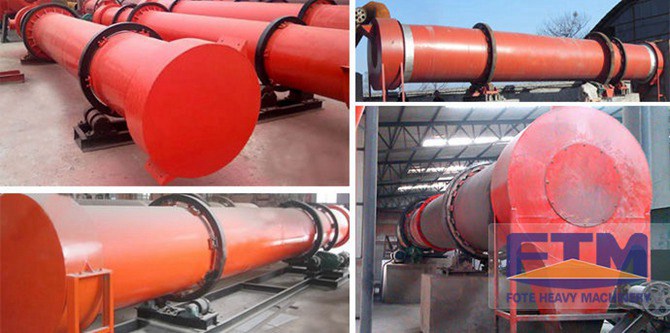 Features of Cassava Dryer
1. Compact structure and easy to move. Cassava dregs dryer is installed on the whole rack and moves by the front head traction. There is a quick leg fixed in production activity which is solid and reliable. It is convenient to change the site. Good economic performance and reliable performance;
2. High drying intensity. Cassava dryer adopts cycle drying process. The special plate in cylinder ensures full access of thermal energy and materials in a dynamic process and the water vapor quickly discharged. It has larger productivity than any other dryer with the same volume.
3. Automatic operation and thermotechnical CNC control. Smooth and reliable operation. Temperature can be regulated automatically which improves the stability of the temperature of hot air, and dry product quality can be guaranteed.
4. Low cost power, stable operation, easy maintenance. Use energy-efficient coal-fired hot air furnace, and multi-level heat recovery systems so that integrated thermal efficiency is increased by more than 10% and decreases the cost significantly.
5. Dry product quality is stable. Uniform moisture content. When material is under negative pressure, it avoids easy oxide material deterioration. The material in the drying process is not affected by pollution, and minimum losses of nutrient content of drying material.
Technical data
Spec./m
(Dia.×Length)

Shell Cubage
(m³)

Capacity
(t/h)

Installation
Obliquity
(%)

Highest Inlet
Air Temperature
(℃)

Main Motor
(kw)

Weight
(t)

Φ1.2×8.0

9.0

1.9~2.4

3~5

700~800

7.5

9

Φ1.2×10

11.3

2.4~3.0

3~5

700~800

7.5

11

Φ1.5×12

21.2

4.5~5.7

3~5

700~800

15

18.5

Φ1.5×14

24.7

5.3~6.6

3~5

700~800

15

19.7

Φ1.5×15

26.5

5.7~7.1

3~5

700~800

15

20.5

Φ1.8×12

30.5

6.5~8.1

3~5

700~800

18.5

21.5

Φ1.8×14

35.6

7.6~9.5

3~5

700~800

18.5

23

Φ2.2×12

45.6

9.7~12.2

3~5

700~800

22

33.5

Φ2.2×14

53.2

11.4~14.2

3~5

700~800

22

36

Φ2.2×16

60.8

13.0~16.2

3~5

700~800

22

38

Φ2.4×14

63.3

13.5~16.9

3~5


700~800

37

45

Φ2.4×18

81.4

17.4~21.7

3~5

700~800

37

49

Φ2.4×20

90.4

19.3~24.1

3~5

700~800

45

54

Φ2.4×22

99.5

21.2~26.5

3~5

700~800

45

58

Φ2.6×24

127.4

27.2~34.0

3~5

700~800

55

73

Φ3.0×20

141.3

30.1~37.7

3~5

700~800

75

85

Φ3.0×25

176.6

37.7~47.1

3~5

700~800

75

95

Φ3.2×25

201

42.9~53.6

3~5

700~800

90

110

Φ3.6×28

285

60.8~76.0

3~5

700~800

160

135
Technical parameters of indirect heat dryer:
Shell
diameter
×shell
Length
Items
Inside
diameter
of outer
shell
(mm)
Inside
diameter
of inner
shell
(mm)
Shell
Length
(m)
Shell
cubage
(m³)
Shell
obliquity
Lifting
blade
form
Highest
inlet air
temperature
(℃)
Dimensions
(m)
Φ1.5×15m
1500
500
15
20.27
3-5%
Lifting form
850
16.2×2.7×2.7
Φ1.5×17m
17
22.97
18.2×2.7×2.7
Φ1.5×19m
19
25.68
20.0×2.9×2.9
Φ1.8×21m
1800
650
21
35.91
3-5%
Lifting form
850
22.5×2.7×2.7
Φ1.8×23m
23
39.33
24.5×2.9×2.9
Φ1.8×25m
25
42.75
26.5×2.9×2.9
Φ2.2×21m
2200
800
21
58.10
3-5%
Lifting form
850
----
Φ2.2×23m
23
63.61
Φ2.2×25m
25
69.15