Features
Basic Information:
In order to meet the market demand, the tracked jaw crusher is developed. Tracked jaw crusher is also known as tracked jaw crushing plant. Tracked jaw crusher is mainly used in metallurgy, chemical industry, building materials, water and electricity and other industries.
Tracked jaw crusher is with high performance, high reliability, and good appearance, reaching the international level. It is widely used in road and bridge construction, urban construction, metallurgy, energy and other sectors to conduct crushing and screening operations.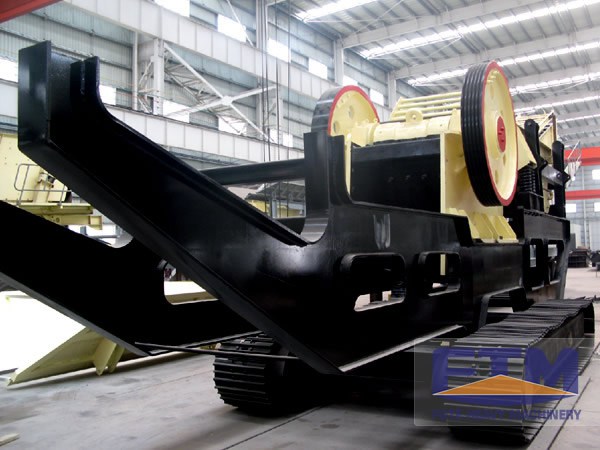 Tracked jaw crusher is mainly composed of solid rack, e-break vibration sieve, crusher, feeder, conveyor belts, motor and control box, and so on. The user can make different choices of different configurations according to the material type, size and product material requirements.
Fote is a famous tracked jaw crusher manufacturer in China. Fote has been specializing in producing stone mobile for several decades. The products all have reasonable price and guaranteed quality. You can get contact with us to get more information.
Applied Fields:
Widely used in mining, coal mining, garbage and recycling of construction waste, earth works and urban infrastructure, roads or building sites and other ground operations.
Handling of topsoil and a variety of other materials; solated viscous concrete aggregate; Construction and demolition industries; Broken screen; Quarrying industry.
River pebbles, rocks (limestone, granite, basalt, diabase, andesite), ore tailings and the artificial sand stone chips.
Working Principle:
The material enters into the crusher cavity evenly through the feeding machine. After the primary crushing, closed-circuit system is formed through circular vibrating screen, loop break achieved, finished items output by the conveyor, continuous shredder. Mobile jaw crushing plant can produce according to actual need to remove circular vibrating screen, realizing preliminary crushing of materials directly, using with other broken equipment easy and flexible.
Characteristics:
1. Compact structure and reliable operation.
2. Perfect compound of high efficiency and transportable.
3. Can be used as sole crushing unit or make multiple section.
4. High productivity and easy adjustment.
5. Various options to satisfy different applications.