Features
General Introduction:
Wheeled mobile crusher is also known as portable crusher or mobile crushing plant. Mobile crushing plant is mainly used in metallurgy, chemical industry, building materials, water and electricity are often items that require relocation job processing, machinery, in highways, railways, hydroelectric projects and other liquidity operations.
The user can use a variety of different configurations according to the material type, size and product material requirements. Our current mobile crushing plant used in demolition and construction waste treatment project in the city, broken screen divided into several different construction waste recycled aggregate size and rules, is foundation the our construction waste recycling project.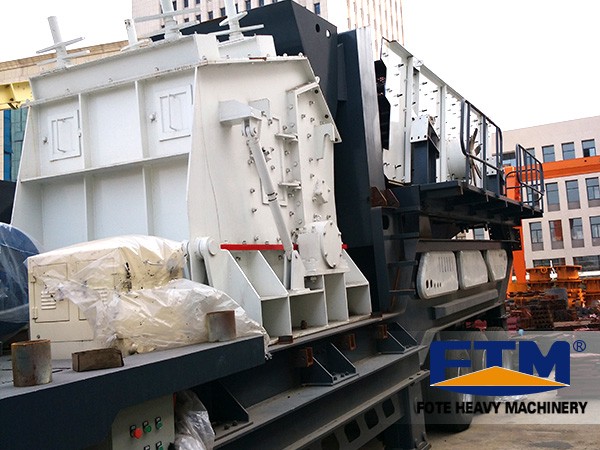 Mobile crushing plant flexibility, maneuverability, can save a lot of infrastructure and relocation costs. The material is broken, and can be moved with the advancement of the mining of raw materials, thereby significantly reducing the cost of transport of material. Mobile crushing and screening equipment including primary crushing and secondary crushing and screening station, composed of belt conveyors, crusher is an independent unit of work at various levels, and it is also able to perform its various functions.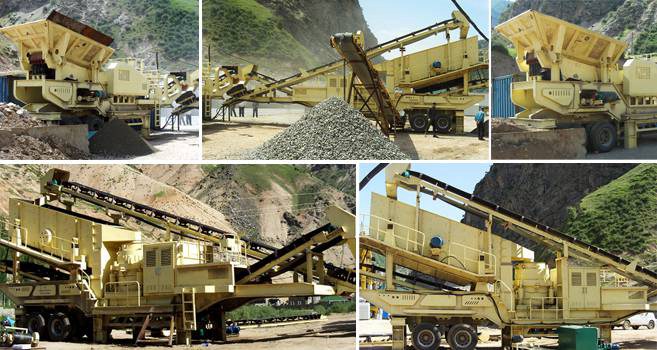 Unique Features:
1. The use of hydraulic opening can quickly and easily adjust the port.
2. The use of three-dimension finite element analysis and design of high performance.
3. The use of standard flatcar to transport.
4. Feeding machine adopts the two-tier structure, soil and sieving of fine material
5. Use the most optimal power transmission scheme, high efficiency
6. Optional for loading and unloading iron remover.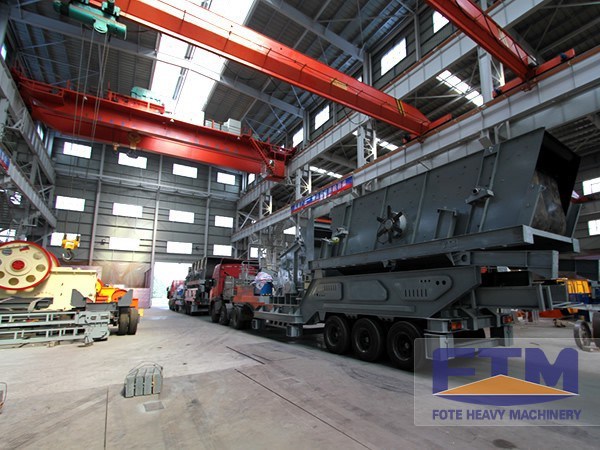 Maintenance of Wheel-mounted Mobile Crusher:
Routine maintenance: equipment should be lubricated as required, small and medium sized equipment and lubricating grease lubricated regularly. Large equipment like large jaw and cone crushers, it should often with forced lubrication system. At this point, you should always watch for oil temperature, oil pressure, flow and so on. Tighten loose fasteners. Equipment in operation, to always pay attention to the noise and vibration of equipment, when excessive noise or vibration occurs, we should promptly check stands.
Technical data
| | | | | |
| --- | --- | --- | --- | --- |
| Model | HX938HD80 | HX1149HD98 | HX1349HD110 | HX1349HD125 |
| Trasportation Length(mm) | 12600 | 13500 | 14500 | 15200 |
| Trasportation Width(mm) | 2600 | 2700 | 2800 | 2900 |
| Trasportation Height(mm) | 3870 | 4200 | 4450 | 4500 |
| Maximum Length(mm) | 12500 | 14000 | 16100 | 16700 |
| Maximum Width(mm) | 4100 | 4500 | 5100 | 5100 |
| Maximum Height(mm) | 4100 | 4900 | 5000 | 5300 |
| Weight(t) | 39 | 57 | 55 | 65 |
| Tire Configuration | Dualaxial | Triaxial | Triaxial | Triaxial |
| Jaw Crusher | HD80 | HD98 | HD110 | HD125 |
| Maximum Feeding Size(mm) | 500 | 550 | 660 | 800 |
| Discharge Opening Size(mm) | 50-150 | 75-175 | 100-200 | 125-225 |
| Capacity(t/h) | 85-275 | 110-350 | 215-510 | 280-650 |
| Vibtrating Feeder | ZSW380×95 | ZSW420×110 | ZSW490×130 | ZSW490×130 |
| Main Belt Converyor | B800×8.5M | B1000×9.5M | B1000×11M | B1200×11M |
| Side-Opening Belt Converyor(Optional) | B500×3M | B650×3.5M | B650×4M | B650×4M |
| Genset(Optional)(kw) | 200 | 250 | 270 | 400 |
| Iron Separator(Optional) | RCYD(C)-8 | RCYD(C)-10 | RCYD(C)-10 | RCYD(C)-12 |